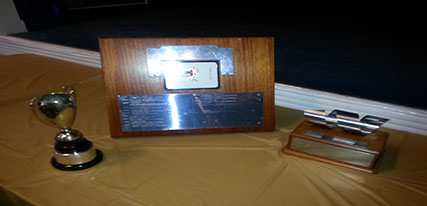 We did it!
Chichester Film & Video Makers win the 50th Anniversary of the Albany Competition with our film "Three Little Words" Written and Directed by Kevin Pritchard. Out of an available five awards CFVM picked up three awards. The remaining two going to Haywards Heath Movies Makers for their films "Number 30" and " Red 7".
Congratulations to all the clubs that entered and special thanks to Surrey Border Movie Makers for hosting a great event. The films were of a very high standard and it was great to see some work from the members of other clubs. The judges did a fabulous job and feedback was very constructive and they did not try to remake the films as sometimes happens.

CFVM Win
"The Albany Trophy"
For Best Overall Film

  "The Albany Editing Trophy"
For best edited film
  "The Syd Mitchell Trophy"
For best Sound Design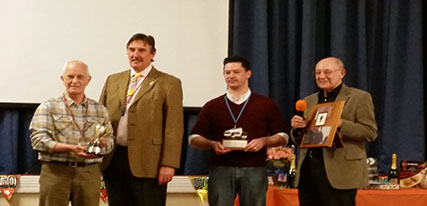 from left to right. Alan Hepburn (Producer & Actor) John Mills ( SBMM Chairman & M.C.) Kevin Pritchard (Writer & Director) Mike Morris ( CFVM Chairman & Actor)
Next year CFVM get to host the Albany Competition and we will look forward to putting on a show to be proud of, bigger scones is a must.
See our previous years results  HERE