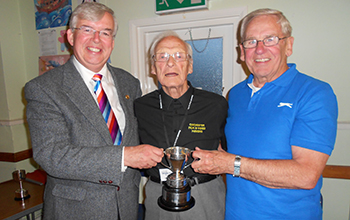 President Rodney Reeder awarding one of the many trophies to
Richard Plowman & Ren Curtis for "Crossing the T".

I cant believe it is Oscars time again all ready. The evening began in typical CFVM fashion with our traditional Fish & Chip supper and some general socializing. Chairman Mike Morris then opened the Oscars awards with a short speech and handed it over to myself to wow the audience with a VFX fireworks display and Intro.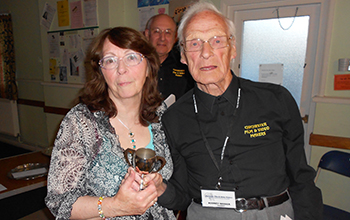 President Rodney Reeder awarding the Keith Baker 1 minute
trophy to Tina Keller, on behalf of her son James for his film "Jumpers Again".
As the evening progressed it was very obvious which films were going to win most of the awards and rightly so. Clive Hands " Wet & Wild at Arundel" won a few awards and the Town Crier Production "Crossing the T" also directed by Clive Hand totally cleared up. It was a fantastic film and deserved every award it won.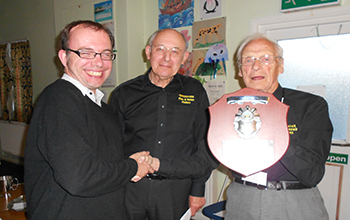 President Rodney Reeder and Chairman Mike Morris awarding one of the
trophies to Rupert Marks on behalf of Clive Hand

Sadly most of the winning filmmakers were unable to make the Oscars evening in person. Clive mananged to send us a video acceptance speech for two of his awards which was rather amusing and James was at a concert ( I won't say which band he went to see to save his embarrassment). If you are wondering why Clive was not able to make it…..see the picture below.
<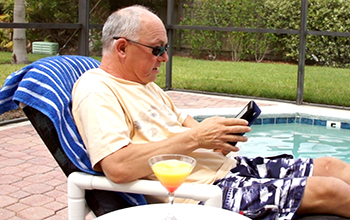 Clive working hard as normal

<
Yes, he was slumming it in sunny Florida. Oh how the other half live. A very worthy winner indeed for two great films and as a cherry one top he was also voted by the members as the best Clubman winning the Pearman cup.
Mr Hand we salute you.